About Printing on Optional Battery Pack BP-308 for Digital Camcorders
Thank you for using Canon.
We have detected an error in the printing on the packaging on the Optional Battery Pack BP-308 for use with digital video cameras.
This battery pack is manufactured according to Canon's specifications in China. The country of origin is correctly displayed on the battery pack itself, however, on the packaging, the country of origin is mistakenly printed as Japan.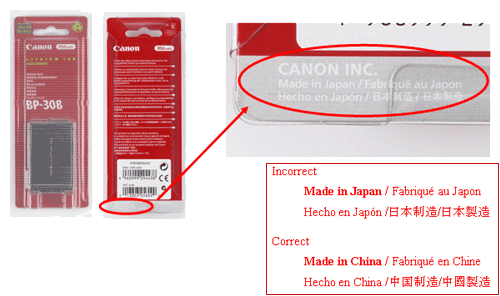 This is strictly a printing error and we assure all users that this has no impact on the quality and functionality of the product. And we confirmed that this product was manufactured in accordance with the quality standards for genuine Canon products.
We apologize for any inconvenience caused. Please be assured that we will continue to be stringent in our efforts to prevent such errors from occurring and we would like to thank you for your understanding.
Product Information:
Battery Pack BP-308
Video Cameras that are compatible

Canon digital camcorder OPTURA600 / Canon digital video camcorder MVX4i
Contact Information:
Please contact your nearest Canon sales company.